A motorcycle leather jacket is a timeless staple that never goes out of style. It is versatile, durable, and fashionable, perfect for all women. They can pair it up with various garments to create chic attire that can work for any occasion. Therefore, having a single motorcycle leather outwear in your closet is a must for a girl. And if you have one but are bored to tears of wearing it in the same manner, join us. We will reveal the trendiest ways you can style this staple and rock any occasion.
8 Trendiest Ways Women Can Style Motorcycles Leather Jacket
Brown Moto Jacket With Black Jeans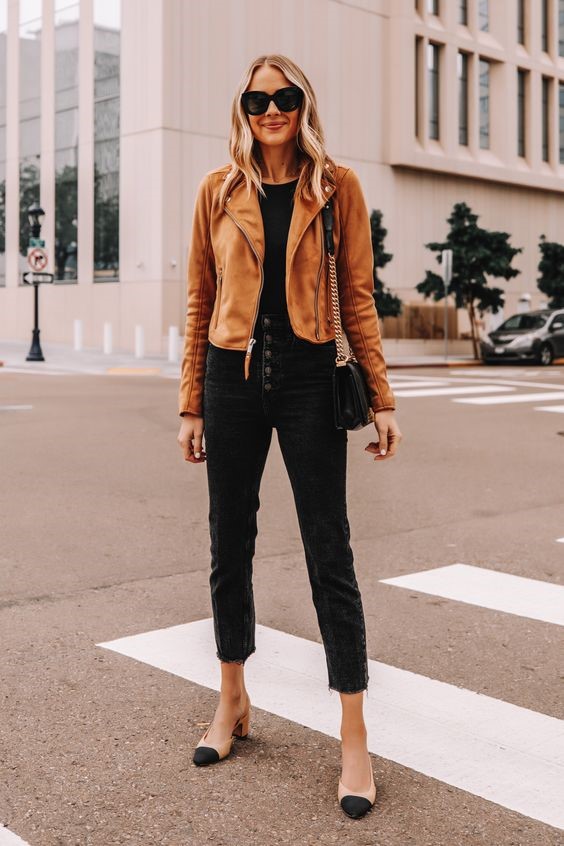 Bring an edge to your attire with this buttery brown soft faux leather moto jacket. It also has a classic style, having luxurious gold zips, lapel style collar, and a cropped size. You can pair it with brown, white, and black tones to create an aesthetic look.
One of the best ways to wear this staple is by combining it with charcoal jeans and a shirt. Include pump shoes, a handbag, and shades in your ensemble to take it to another level. When it comes to hair, you can either keep them open or tie them up in a ponytail.
Bomber Jacket With An Utility Skirt
The B3 bomber outwear is generally made from the finest leather and premium quality stitching. The material fabric is best for keeping you warm on the chilliest nights. Moreover, its vintage design offers a dashing appearance. Layer the B3 bomber jacket on a simple maroon shirt and pair them with a snow-white pleated short utility skirt.
The 100% original fur shearling lining on the closure and cuffs introduces a royal touch to the attire. It is the best outfit to flaunt your hot legs in the mild cold weather. Smokey eyes and dark lip shade will create a bold statement.
Give Tan Leather Trench A Shot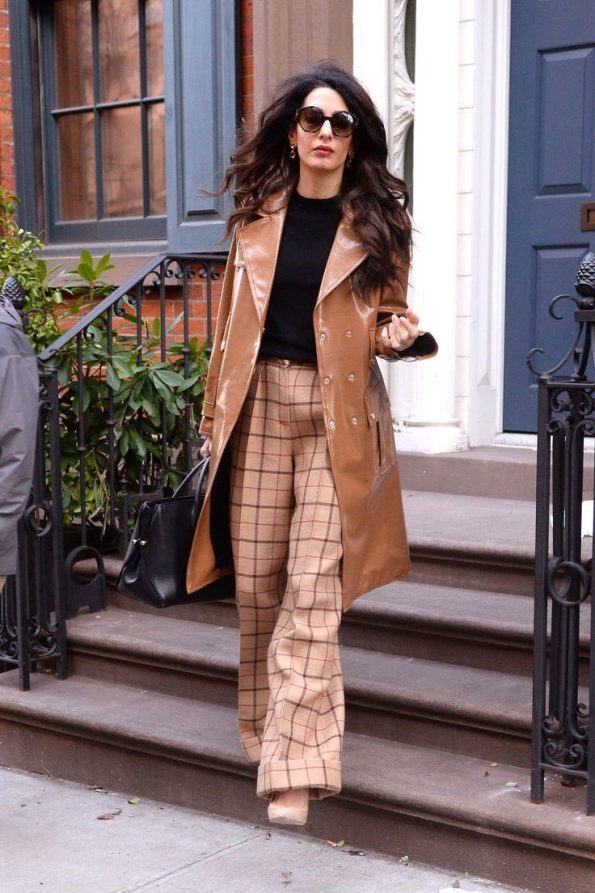 Amal Clooney, the famous Lebanese and British barrister, is all the rage for her fashion sense. She always makes sure to stand out by her dress wherever she goes. And one of her favourite looks is the one you can see in the above photo. She appeared in this tan trench coat, plaited pants, and a black top.
Amal topped her ensemble with chic sunglasses, a charcoal handbag and nude-toned heels. Though the outfit is pretty decent, it offers her the highest level of elegance. Thus, you can take inspiration from her and create a similar attire with your tan trench coat.
Pair Up With Sweatpants For A Dashing Look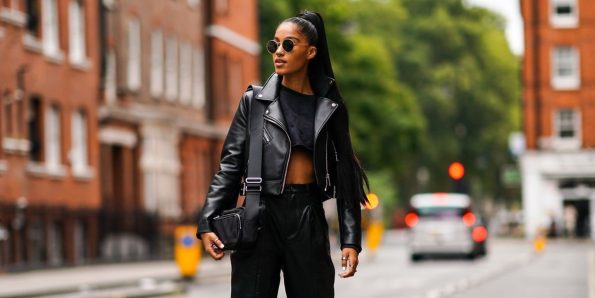 Consider this styling idea whether you're an enthusiastic motorcyclist or have a biker partner to take you on the ride. The black leather jacket is an excellent staple for transitional weather and looks dashing on everyone. So, if you have this gear, take it out of your closet along with coal-black sweatpants and a crop top. Dress yourself in them and slip your toes in the animal skin boots.
Accessorize your outfit further with circular shades and some minimalistic jewellery. Go for nude makeup and white nail paint to contrast and dazzle the look. And voila! You're ready to rock any party or the road for a long motorcycle ride.
Get Casual With Puffer Force Jackets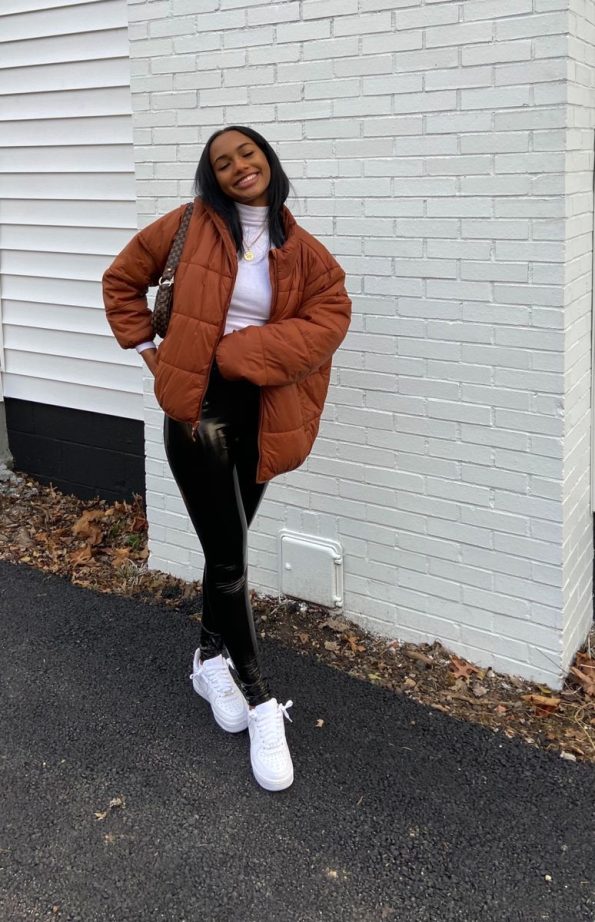 During the frosty weather, fashion generally takes a backseat and protection from cold becomes a top priority. The chilliest breeze calls for layering up one garment over another. In such situations, the puffer forces jacket becomes the favourite choice of fashion enthusiasts. Why? Because its cushy look can transform the basic look of any clothing into the chic one.
Hence, you can instantly ramp up your outwear style by combining it with skin-tight leather pants and a white high-neck shirt. Complement your attire further with pearl-white sneakers and some gold jewellery. It will offer you the most fashionable Gen Z appearance and grab maximum eyeballs.
Dress Up With Ripped Jeans
Here comes the simplest and easiest way to wear a motorcycle leather jacket. You can flaunt your outwear with ripped blue jeans and a white tee shirt. Round off your ensemble with a nude stiletto and eye-drop sunglasses. It is a fail-proof way to add a stylish flavour to your appearance. Carry a leopard print bag to keep your essentials with you, and you're ready.
Layer It Up On A Vibrant Sweater
If one layer over a shirt isn't enough for you due to the highly icy weather, go for this stylish idea. A white t-shirt and loose black pants are the safe casual get-up that you can opt for comfortable attire. Toss your modern motorcycle staple over any vibrant monochrome or bichrome sweater. It will significantly create a sporty look. Finish off your outfit with low-top sneakers, an edgy necklace, and colourful shades.
Look Hot With US Air Force Jacket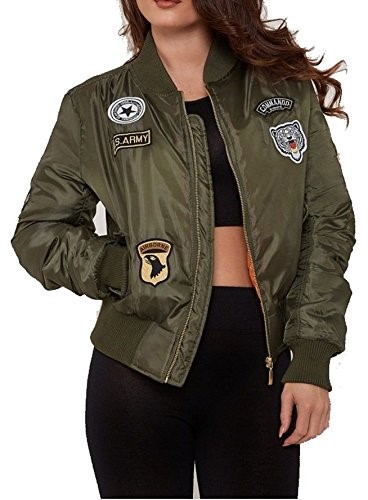 US air force jackets originally came into existence, especially for the flight pilots of the American military. They were designed while keeping the army personnel in mind to offer the best experience. Numerous civilians wear it today for comfort, warmth, and a dashing appearance. If you want to enjoy all three features, get a US air force jacket.
The fantastic thing about this staple is that you can wear it in innumerable ways. For instance, black crop tops and leggings are the essentials that must be available in your closet. So, take them out and combine your US air force outwear with them. It is the easiest way to punch up hot attire and captivate everyone around you.
Final Words
Various types of leather outwear are thriving in the women's fashion industry, but motorcycle jackets stay on top. It is a versatile, functional, and durable staple all ladies must have in their closets. However, how we wear particular gear can make or ruin our look. Thus, we shared eight fashionable methods to adorn motorcycle leather staples for all females. Consider the above styling ideas to rock your attire in any weather and occasion.